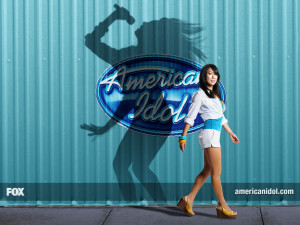 So what's going on with the 2016 Season of American Idol? The big news, of course, is that the network is cutting the season short by 4 weeks! That's a lot of entertainment lost to us loyal fans. Apparently we are a dying breed. The fan base has diminished to the point where the show isn't profitable to the overall scheme of things any longer.
All good things come to an end, but I'll hang with my faithful readers until the very last bit of news is gleaned from the stages of what is perhaps the greatest reality TV competition ever. As a loyal American Idol Fan I will always be grateful for every jaw dropping performance, every goose bump, every cheer and sneer that occurred during the past 14 years.
Well the final season promises to be full of great moments. All the former judges who have ever been on the show will sit at the judges table at some time or another. At least the producers had the good sense to cater to their fan base with a tribute to those who made the show a success. The dates aren't set in stone yet, but we expect to see red carpet limo service for Simon Cowell, Paula Abdul, Randy Jackson, Mariah Carey, Steven Tyler, Ellen DeGeneres, Nicki Minaj, and Kara DioGuardi as they all return for a commemorative farewell. Naturally, Jennifer Lopez, Keith Urban, Harry Connik Jr. are all sitting court as the official final season judges.
I love them, but it will be fun to see the old seats filled with those who helped make the show great to begin with. Sharing a little time with each one on set will only make us fans sadder to have to say goodbye, but Idol's fate has been sealed by the bigwigs. I'm going to do my best, and I suggest you do the same, to relish each moment and replace the sad goodbyes with the celebration of the ever present talent that graces our TV screens for another season. . . and remember we always have re-runs.
Ryan Seacrest returns with that million dollar smile and his natural warmth to announce, moderate and support the last batch of contestants to go down in Idol history. Like the show he is moving on. After the last show is aired for American Idol, Ryan will be hosting another reality show called Knock Knock Live. Simon Cowell – once again – is behind the scenes as the mastermind in which ordinary people are given a chance to see their dreams come true.
Sitting beside Simon at the producers table, Ryan will be the face on the screen. His crew will travel across the country meeting ordinary people and presenting them with opportunities of a lifetime. The show doesn't air until July of 2016, but I have a feeling with Ryan hosting and with Simon as a co-producer it will be hyped and highly anticipated by a slew of loyal fans.
Speaking of Simon, and who isn't? We will get our weekly fix as he steps in to replace Howard Stern on America's Got Talent. This is one of my favorite shows and when the announcement was made that Howard was leaving, I was so disappointed. I couldn't imagine who they could get to fill the size 13s of the incomparable Mr. Stern.
I could hardly contain my joy when I found out that Simon was going to be sitting in that chair for their 2016 season. I just couldn't bear the thought of Simon going behind the scenes and only getting dribbles of news about him from the fan pages of TMZ.
Other highlights to look forward to are moments featuring the past contestants who have gone on to become industry juggernauts. Kelly Clarkson, Jennifer Hudson and Carrie Underwood are all scheduled to be on stage at some point as they re-cap the last 14 plus years.
So I'm starting to feel less of the pain and more of the thrill of moving towards the final season of American Idol. Our favorite personalities aren't going to be far out of reach. They wouldn't do that to us loyal fans. I like to think they love us as much as we love them. What are your thoughts on the matter? Give me your input by leaving a comment below. I know I'm not in this by myself.